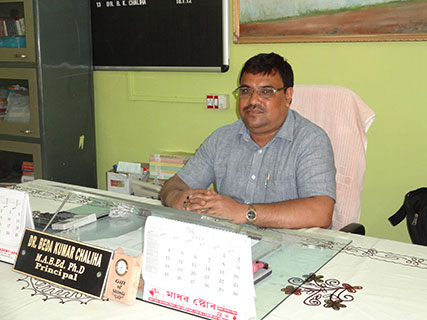 Dear Students...!
I am happy to welcome you to pursue higher education in Raha College. At present , the world is witnessing the worst pandemic in a century with outbreak of COVID-19 virus. Our country being no exception- the government of India as well as the state government is doing its best to fight the meance tooth and nail. But at the same time, we being responsible citizens of largest democratic country in the world must act prudently and follow all safety guidelines prescribed by the Helth ministry to save ourselves and our dear ones, in short, the entire society, from this scourge. Norms like social distancing, washing hands regularly with soap, putting on mask, and not spiting outside, must be adhered to rigorously. Till the time no vaccine is available, we must diligently follow the instruction given by the government in this regard. Education, being a sphere, where social interaction is essential, has suffered the most in these turbulent times. Although, classes are being conducted in online mode through various platform like mobile phones, computers, TVs and other electronic devices, a percentage of students have suffered as the do not have these facilities at home. We are hopeful that things will improve significantly in coming days abd normal environment conductive for studies will re-emerge. You are indeed blessed to find an opportunity to study in one of the best degree colleges in Nagaon district. Raha College has been serving the student community in their academic excellence for last 55 years. Raha College , established in 1964, is the only degree college in Raha constituency offering degree course in Arts, Science and Commerce streams and is permanently affiliated to Gauhati University (GU). Besides the college has three distance education study centers of Gauhati University(IDOL), Krishna Kanta Handique Open University (KKHSOU) offering graduate, post graduate degree along with diplomas and certificate course and Assam State Open School (ASOS) offering higher secondary level course in Arts Stream.
From the last academic session (2019-20), the Choice Based Credit System (CBCS) in our degree courses have been introduced. The college also offer Higher Secondary course under Assam Higher Secondary Educational Council (AHSEC) in the Arts, Science and Commerce stream have been introduced from the academic session 2018-19, Our college takes pride in being a place , where students can pursue knowledge at their own pace, aided by the rice faculty members, who guide them at every step. We strive to establish a vibrant learning environment that would expand the horizon of higher education has become a common feature of higher education in India and abroad. Our college was awarded "B" grade in NAAC accreditation (Second cycle) in 2015. Keeping in pace with challenging times, we have constituted modern digital classrooms, conference room, new science laboratories, new academic building, fully acoustic auditorium and renovated classrooms. The college has constructed a new digital library from financial grant received from RUSA. We are thankful to RUSA and UGC for providing us financial support to construct new infrastructure in college premises.
Our faculty members are sincerely dedicated to the task of imparting higher education to the students and they regularly attend refresher/orientation/short term courses to keep them abrest of latest developments in their respective subjects. The College also holds national seminars, conference and debate competitions and engaged in the work of dissemination of knowledge, communication skills values and the right attitude to become successful in life. A holistic development is the only answerer to tide over the emerging challenges abd difficulties posed by uncertainties of the present time. Discipline and hard work is the key to success along with ambition and divining one's goals clearly. I, on behalf of Raha College family welcome all aspiring students of this college to scale new height of success and achieve greater glory.
Wish you all good luck !
Dr. Beda Kumar Chaliha (M.A., B.Ed. Ph.D.)
Principal, Raha College